Women are a rarity at the top in four-wheel racing, and motorcycling has even fewer female contestants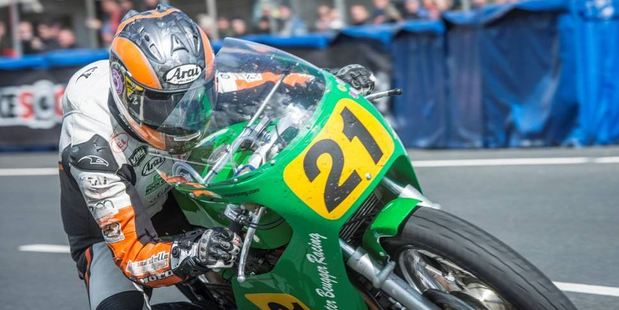 Maria Costello at the Isle of Man Classic TT, 2014, riding the Peter Beugger 500cc Paton. Photo / Supplied
One of the puzzling things in motorsport today is the lack of women mixing it with the men on the same grid. There is no real reason this should be, as the machinery in this day and age is so well balanced and poised there's no need to have arms and legs like Arnold Schwarzenegger in his heyday.
There are a few women making their way in four-wheel racing with only one, Nascar's Danica Patrick, who is doing anything at the top level.
Two or three sit on the cusp of Formula One and there are a small number sprinkled through the junior formula categories in Europe, but that's about it.
Motorcycle racing suffers an even bigger dearth of female racers sharing the grid with the blokes compared to the total number of both sexes who compete worldwide. Looking around the world, at the elite level there are only Ana Carrasco Gabarron, MotoGP Moto3, Maria Herrera Munoz, Spanish CEV Moto3, Katja Poensgen, 250 Grand Prix and probably the best-know of them all is Isle of Man and road course specialist Maria Costello.
The Brit has flung herself around the world's longest, most notorious, difficult, fickle and spectacular race circuit 44 different times on various race bikes during both the IoM TT in June, and the Manx or Classic TT in August each year.
Costello was the first woman to stand on the podium at either event when she finished third in the 2005 Ultra-Lightweight TT at the Manx GP on a Honda RVF 400VFR. During her career racing on the Snaefell Mountain Course Costello has won eight Manx GP Silver Replicas and one TT Bronze Replica.
On the official IoM website, the former veterinary nurse and now a racing journalist reckons that racing motorcycles has been character- building and life-changing and she's loved every minute of it, and will continue to do so for a long time yet.
The 41-year-old, who was awarded an MBE in 2009 for her services to motorcycling, is in New Zealand this week as one of 20 women competing in the Mike Pero Barry Sheene Motorcycle Classic at Hampton Downs.
Over the weekend Costello will be racing a Bruce Verdon Manx Norton, a Honda RS 125 and a Bimota TZ400.
"It's a dream come true for me to come and race in New Zealand and I feel very lucky to be able to come here," said Costello.
"I got to race in Australia in March and this is now the second leg of the Australians versus the New Zealanders.
"I don't race on purpose-built circuits much any more. I'm a road racer [competing on closed public roads] and this is only the third time this year I will have been on racetrack.
"Road racing is fantastic and there is nothing else like it. To be able to race around the Isle of Man makes me the luckiest woman alive. There aren't words to describe what racing at the Isle of Man is like, and all the other road courses in places like Ireland are also fantastic.
"It's real racing - there's no run- off, no gravel traps, the roads change all the time and the sensations are completely different to anything else. It's not for everybody, but I love it."
All sport by its combative nature is dangerous and motor racing is no different.
Many observers of motorsport, and in particular motorcycle racing, look to the accidents first rather than the extraordinary skills involved in controlling flying metal at incredible speeds.
For a sport that looks like it's going to go pear-shaped at any moment, there are very few fatalities in motorcycle racing considering the number of people who compete day-in and day-out.
"Accidents happen all the time in ordinary life. You can break a femur by just falling over walking down the road. The sport is dangerous, but so are so many other things in life.
"All I'm looking forward to is riding some fantastic classic bikes around Hampton Downs," said Costello.
Her passion and drive to get more women into the sport she evidently loves so much led her to becoming a member of the FIM (world motorcycling governing body) Commission for Women in Motorcycling. Its mission is to create egalitarian opportunities and promote equal treatment for women involved in activities related to motorcycling.
"More women are starting to race now and we've even had up to eight racing at some meetings in Ireland. It's great to see more women racing and that's what I'm all about now - getting more women into motorcycle racing.
"I do my own track days for women in Britain and they are becoming more and more popular. We have to make the sport more visible for the young to take part.
"And there's no reason why they can't compete on equal terms, that's what is great about the sport," said Costello.