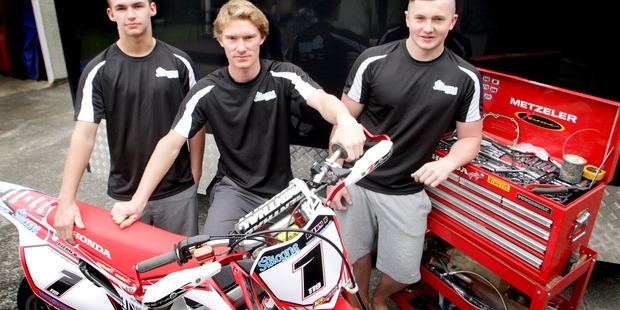 Mal Mitchell-Thomas (left), Richy Dibben and mechanic Jonny Bagnall will be rivals on the track in the Suzuki Series Super Moto class. Photo/Bevan Conley
Defending Suzuki Series Super Moto champion Richy Dibben has plenty of close mates - but he is keeping his enemies closest.
The Wanganui-born racer has returned from England to defend his title this year after an eight-month stint as a mechanic for the Silicone Engineering Racing Team that sponsored top British rider Malachi Mitchell-Thomas.
Dibben and Mitchell-Thomas became bossom buddies flatting together just outside Manchester while the Brit competed in the Super Moto class of the European championship.
"Mal just about had the European championship won, but crashed in the last race in France," Dibben said yesterday.
Mitchell-Thomas and his mechanic Jonny Bagnall are staying with Dibben at his parent's home in Okoia and will compete against Dibben in the Suzuki Series Super Moto class this season for the first time.
The 2013 three-meeting Suzuki Series begins at Hampton Downs this weekend, followed by round two at Manfield a week later and culminating in the legendary Cemetery Circuit street races in Wanganui on Boxing Day.
"I didn't have a job to go to when I went to England, but I got in touch with the Silicone team and they hired me as a mechanic. In fact, team manager Paul Iddon raced on the Cemetery Circuit back in the 1970s. I ended up flatting with Mal and toured with him during the European championship," Dibben said.
"Because of the work I'd done for them, Silicone are also sponsoring me in the Suzuki Series this year. I rode a few races when I was over there, but only in events that weren't important to Mal - and, yes, he beat me."
Mitchell-Thomas will certainly be a serious threat to Dibben on the Hampton Downs and Manfield track circuits, but it is yet to be seen how he handles street racing on Boxing Day.
"I haven't really raced on streets before but, since arriving in Wanganui, we have driven the circuit and it looks okay," Mitchell-Thomas said.
The Brit will be riding the purpose-built TM450, an Italian brand especially designed for track racing and a popular machine on the European Super Moto circuit. Dibben will race a CRF450 Honda and is eagerly awaiting round one this weekend.
"There isn't much to do to either of these machines when coming from track racing to streets, just the gearing really," Dibben said.
While the pair have become good mates, there will be no love lost on the track.
And while Dibben knows he will have his hands full holding out his British rival, he will be keeping a watchful eye on fellow Wanganui rider Glenn Haden who finished down the points table last year after crashing out in the first round at Hampton Downs.
Dibben went into the final round of the 2012 Super Moto Series with a narrow 11-point lead after dominant performances in the first two legs at Hampton Downs and Manfield. However, a late charge from Duncan Hart on the Cemetery Circuit made the race for the title go right down to the wire.
While Hart was the dominant one, winning all Motard races on his Yamaha YZF450, Dibben kept in touch finishing just behind on his Honda CRF450 on each occasion.
The consistent placings meant Dibben won the title narrowly from Hart.