13-year-old already showing his talent in TR86 series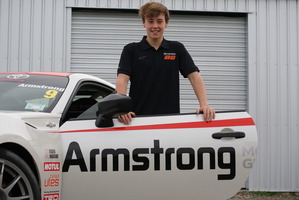 Christchurch 13-year-old Marcus Armstrong is the newest driver in the Toyota Finance 86 Championship. Pictures / David Linklater
Meet Marcus Armstrong, the newest driver in the Toyota Finance 86 Championship. He only joined the series at round five last month, in Taupo. He did rather well in his Neale Motorsport-run TR86, considering he didn't know the track at all: two fifth places and a seventh.
"We did go there pretty inexperienced," admits Marcus. "I'd never been there before and I didn't even have a chance to walk the track because I had school the day before."
That's correct: school. Marcus is 13, a Year 9 student at St Andrew's College in Christchurch. He's got a C-Grade motorsport licence. He just doesn't have a driver's licence yet.
Racing in the TR86 Championship is quite an achievement for somebody of his age, although Marcus has been building up to this for a long time. He's been racing for more than half of his life, starting in karts at the age of 7.
Last year Marcus won Formula Junior at the Kartsport NZ Schools Championship, the 100cc Junior Yahama class at the Kartsport South Island Sprint Championship, the Arai Junior class at the Rotax Max Challenge and was third in Junior Stock Moto at the American SKUSA Supernationals.
This year, it's all about Europe. Straight after the TR86 at Taupo, Marcus was off to Belgium for the first round of the Rotax Max Euro Challenge karting series. Next school term he has races in Italy and Spain.
Marcus is the first to admit he has a few advantages that allow him to pursue a motorsport career.
"Obviously financial help from my dad is quite nice. There are no guarantees, but with that and a reasonable amount of talent, you can go far. He's my father so wants me to be the best I can be - but if he didn't really think I was good I don't think he'd have paid for my racing."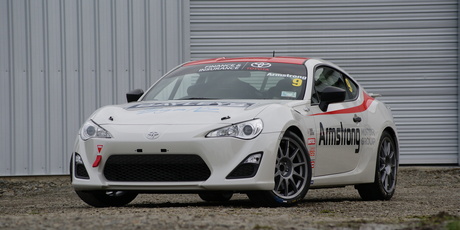 Dad is vehicle retail magnate Rick Armstrong, who owns dealerships in Christchurch, Wellington, Dunedin and Palmerston North. His product portfolio includes Mercedes-Benz, Chrysler, Jeep, Dodge, Land Rover, Jaguar, Fiat, Alfa Romeo, Nissan, Audi and Porsche. Last month he moved into Auckland, taking over the Giltrap Toyota business - now called Auckland City Toyota. Hence the new connection with the Toyota Finance 86 Championship.
Rick Armstrong is a racer himself, although he stresses it's only ever been for fun. A successful business enabled him to get into Porsche GT3 racing in 2001; it's a world young Marcus grew up around.
"I don't remember him missing a single meeting when he was little," says Rick. "When he was 3 he'd be there, trying to clean the car in between races."
Rick says it was clear Marcus had talent right from the start. "In truth I held him back a bit ... because I was worried about his safety. But when he started to drive he was up and running straight away."
Marcus reckons he got "quite good" around the age of 9, when he started to compete away from home in Christchurch. By that stage he had experience not only of driving, but also of setting up a kart correctly for his driving style and individual tracks.
Marcus says his time driving in Europe for Dan Holland Racing this year has been a dream come true: "They're one of the top teams, so I've known about them for a long time.
"Karting is so much bigger than it's portrayed to be. Without a doubt it's much more competitive than the cars I'm racing at the moment: you have 70-odd drivers, 30-odd of whom could win. There's only two-tenths of a second between the front runners so you don't want to be one of the stragglers at the back.
"One thing I have learned over there is that the driver has the most input. Before I went to Europe I thought that kart setup was more important than it really was. But over there, when you see all the data, you realise the driver is the most important element."
Marcus agrees that it's exciting to be on a track with young drivers who may be tomorrow's Formula One stars: "Hopefully myself as well."
The TR86 series is an ideal step because it's so driver-focused. It's a true turnkey championship: all cars competing are essentially the same, based on the roadgoing version of the 86 sports car and built by Toyota Racing in Auckland. Some setup modification by teams is allowed, but under strict parameters.
Primarily, TR86 events are about driver skill - just like karting.
The inaugural 2014 series comprises seven TR86 rounds. Hampton Downs is next, in May. Marcus hasn't driven there before either, but he's determined to better his fifth placing from Taupo.
"To my knowledge we didn't change a thing [in the car setup] at Taupo, so it was all about my driving. Hampton Downs will just be a continuation of that experience."
He's a 21st century boy: before getting into the driver's seat of the TR86, Marcus says he watched a lot of in-car video to try to get a sense of what the Toyota was like.
"But when I got there I realised it was completely different and nothing could prepare you. On the track it was all learning."
Marcus says the atmosphere among the TR86 drivers has been cordial. "It's very competitive, but they've all been nice to me. I'm not as experienced as them and they wouldn't expect me to be. Overall they've been kind: no crashes, no tension, no rivalry. But it'll get more intense as time goes on."
A 13-year-old's metabolism burns hamburgers in fine fashion, but Marcus trains and diets much the same as any racing driver. He has a home gym and works out every day.
He admits his youth gives him some leeway with food, but still avoids the takeaways: "I'd rather remain an athlete."
Formula One is the ultimate goal. Failing that, racing Porsches in Europe would "definitely be on the cards". There's no clear career path laid out yet. He'd love to do the Toyota Racing Series (TRS) next year: true open-wheel racing. But he'd also be happy in the TR86 again: "It's a tight series and it would improve my abilities considerably."
There's still school, mind. No thoughts at this stage on whether he'll be at St Andrew's for the duration: "I haven't had that discussion with my father yet. He's the one who'll make that decision. If he honestly thinks I can make it, we'll do everything we can. That may mean allowing me to leave school."
At the moment, Marcus is missing a class or two. Last term he had nearly three weeks away with karting in Europe and will have more time away next term for Italy and Spain. So aside from fitness training and circuit studies, there's a bit of school homework to catch up on.
"Luckily, I have natural intelligence thanks to my parents," says Marcus. "So I'm not struggling [at school] at all."
Charm and supreme confidence: surely the makings of a world-class racing driver.