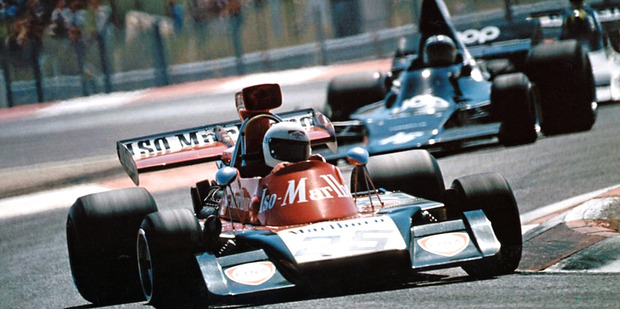 New Zealander Howden Ganley in the F1 Williams car.
The Festival of New Zealand Motorsport's sixth annual event next year will run over its two traditional weekends - January 16-18 and January 23-25 - and will have probably the largest collection of F5000 cars ever assembled in one place.
Held at Hampton Downs, the festival will be celebrating the career of another of New Zealand's great drivers of bygone years, Howden Ganley.
Previous festivals have paid tribute to Bruce McLaren, Chris Amon and Denny Hulme as well as acknowledging BMW's and Ferrari's contribution to motorsport.
Ganley, now 72, was born and raised in Hamilton, and at an early stage in life decided he wanted to be a racecar driver. He started his racing career in New Zealand, but it wasn't long before he realised that to get a leg up the international racing ladder he'd have to go to Europe.
McLaren was in the UK so Ganley pitched up and was soon working for the flying Kiwi. McLaren took him under his wing and it was in a F5000 car that Ganley turned a few heads.
After finishing second to fellow McLaren M10B driver Peter Gethin in the 1970 European Formula 5000 championship, Ganley was offered a Formula One drive with the BRM team in 1971.
In his first year in F1 Ganley was named best newcomer with a top finish of fifth, and in 1972, again with BRM, his best finish was fourth.
In 1973 Ganley moved to Frank Williams' new Iso-Marlboro team, but the car was uncompetitive. The following year he moved to March for a brief stay before his F1 career ended after a spectacular accident in the Japanese-built Maki in practice for the German Grand Prix at Nurburgring later in that year.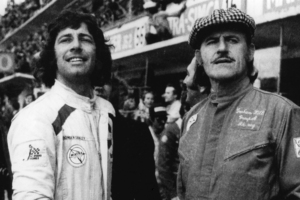 He then went into partnership with another Grand Prix racer, Tim Schenken, to form the Tiga (Tim/Ganley) racing car business but eventually sold out in 1987 and went into business outside racing. He also served for a period as secretary of the British Racing Drivers Club, but then moved to the United States.
The organisers of the Festival of Motor Racing at Hampton Downs are hoping for a record lineup of cars at next year's event.
Close to 300 cars were built to contest Formula 5000 (Formula A in the United States and Canada) series around the world between 1968 and 1982.
New Zealand F5000 Association chairman Tony Roberts believes as many as 60 can be found for the two-round F5000 World Series.
"What we'd like to see is the biggest gathering of Formula 5000s ever competing under the banner of the F5000 World Series," he said.
"There are at least 40 here, a similar number in Australia plus at least 20 each in regular use in the UK and the US.
"The regular series guys will obviously be the starting point, but what we would really like is enough cars to create two grids [Hampton Downs has a limit of 32 cars a grid].
"We'll have one for those who want to compete for MSC series points and the other for those who just want to be part of the meeting and drive the car round the track at their own pace."
Formula 5000 was New Zealand's premier motor racing category from 1970 to 1975, and interest in it was revived around 12 years ago.
Key to the attraction of the cars for drivers and fans is the practical, if rather brutal, combination of their tubular steel space frame (early cars) or aluminium monocoque (later ones) chassis and stock-block 5-litre V8 engines.
In their heyday they were as quick as, if not quicker at some tracks, the Formula 1 cars of the era, yet they could be built at a fraction of the cost.
The McLaren M10B Ganley drove to second place in the 1970 European Formula 5000 Championship has been restored and is now owned by a Swiss enthusiast. Roberts hopes to reunite Ganley with it at the first festival meeting.
Organisers are working on getting guest cars to provide more flavour on and off track.
Support classes confirmed include the historic muscle cars, historic Formula Ford, saloons and Formula Junior. Several others are yet to confirm.
For this article and more by the NZ Herald click here